Top 5 Must-Haves When Renovating a Kitchen
The kitchen is the most lived-in space in any home, the "Heart of our Home", The "Epicentre", and the "Family Hub". 
 It is where we gather before and after our day, where we create delicious meals, and where we make memories with our family and friends. Hence the importance of its functionality, sustainability, and comfort. 
So, how do you improve your kitchen? There are a few key ways – here are our Top 5 Must-Haves when renovating a kitchen:
Preparing meals can be a long and daunting task at times and having a productive workflow will make your life a lot easier. Include the essentials that make your space work for you.  
Things to consider:
– The placement of your appliances and outlets around your working area
– A water supply such as an instant hot water faucet
– A disposable bin in one arm proximity of your food preparation surface
These are a few simple solutions that can add value to your kitchen while allowing you to work efficiently.
There is nothing more frustrating than spending ten minutes looking for that one thing you need. What's even more stressful? Not knowing how to create a better solution.
Things to consider:
– Adding pull-out shelves
– Deep drawers for your pots and pans
– Dividers that separate the appropriate categories
– Open Shelves for those easy reach items 
These are some essentials that will take the stress of searching while decreasing clutter.
As your kitchen sees a lot of action, you need to prepare the space with durable & sustainable material. Those 20-year-old chips on your cabinets or that broken cupboard that never closes properly – are reminders that it might be time to upgrade, as you want your kitchen to last through all that action!
Things to consider:
–  Materials that are stain-resistant for spaghetti night
–  Water-resistant around the sink, fade-resistant to prevent sun damage
–  Easy-close cupboards to prevent the dreaded slam
These are all things that will all give you peace of mind when keeping busy in your kitchen!
There is something about the lighting of a space that brings joy, happiness, and a lot of energy. Both natural and ambient lighting can change the entire feel of a kitchen.
Things to consider:
 – Natural light can be created with bigger windows around your kitchen, or a skylight to allow light to come in
– When nighttime arrives and the kitchen gets busy again, lighting around the cabinets and ambient light fixtures bring visibility and a warm feeling to your space.
No family is the same, and no kitchen should be either. No matter what your lifestyle is, your kitchen should be a reflection of your wants and needs. It should also reflect your personal taste and style!  
At the end of the day, there are many things to consider when remodeling the heart of your home. Planning it carefully and in great detail is worth time and investment.
When you are ready to re-think your kitchen, our team at Woolrich Group will be pleased to help!  Send us an email at info@woolrichgroup.ca to start the conversation.
Take a look at some of our previous blogs for more tips, tricks and inspiration!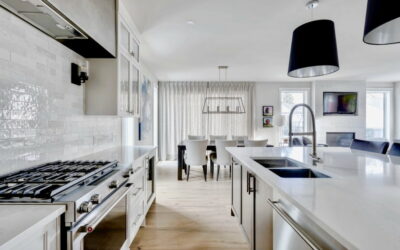 CALGARY HOME RENOVATIONS2022 TOP 5 TRENDSby Woolrich RenovationsThe last couple of years have been a bit of a wild card, filled with uncertainty. Some of us have returned to working in offices, while others remain working from home - and all of us in the last few...