You might have spent more time in your kitchen in 2020/21 than any other year combined! 
While you were in there (or have been watching home shows on repeat), you might have noticed some things you want to change. You might want to change the way your kitchen looks or change the functionality of your space.
 Either way, if it's time to give your kitchen a remodel, we are here to help!  Before you start diving into what you need from your kitchen remodel, here are some of the Top 2021 Kitchen Trends to consider before starting your project:
Wood textures, finishes and accents are coming right back around. This trend might have slowly faded over the last decade but is back with a vengeance. There are so many beautiful wood finishes you can add to your kitchen. From the stain of your cabinets, wood countertops, wood accent shelves or a beautiful wood hood fan!
The options really are endless when it comes to the colour of cabinets you decide for your kitchen. It's no longer just limited to the typical white or wood style – you can now venture down the lane of COLOUR! From navy blue, deep forest green or a modern grey – you can bring your personality to your kitchen!  
A big trend for 2021 kitchens, is to make them "handless" and super "seamless". You don't have to worry about knob style but can create a kitchen that looks oh-so sleek and modern with hidden drawers and even hidden appliances!
Hands up if you have watched "The Home Edit"!!! Not only was it SUPER satisfactory to watch Khloe Kardashian organize her garage, but aren't we all still thinking of every colour coded pantry they got their hands on? Storage is a big factor when it comes to your kitchen! Installing a super sleek pantry, to house all your food / small appliances is just something you NEED!
"Zone" Living
 

or "Broken Plan' Living
All we have been hearing for the last decade or more is the idea of an "open floor plan" and although we still want to keep things open, there is a big trend to section off "zones". Especially in 2021, when your office / kitchen / homeschool (and more) – happens all in one place. Think of adding open shelves, plants, a long island or breakfast bar to separate one space from another.
 Creamy Colours (neutral tones)
This is the time where we want more WARMTH. Instead of keeping everything too sleek, modern (and sometimes cold), there is a big trend towards adding more warmth and texture to a space. Creating a more inviting feel (yep, beige is back).
At the end of the day, your kitchen is about YOU. How your kitchen WORKS and FEELS to you. Give us a call and start the conversation on how you envision your kitchen space. We can help guide you through from concept to completion with our design and construction team!
Take a look at some of our previous blogs for more tips, tricks and inspiration!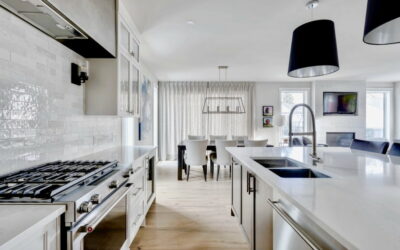 CALGARY HOME RENOVATIONS2022 TOP 5 TRENDSby Woolrich RenovationsThe last couple of years have been a bit of a wild card, filled with uncertainty. Some of us have returned to working in offices, while others remain working from home - and all of us in the last few...